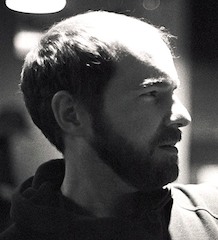 Casimir Nozkowski is an award-winning filmmaker whose work has been featured on
The Tonight Show
,
MSNBC
,
PBS
,
AMC
,
IFC
, and NPR, written about in the
New York Times
and shown at the Museum of Modern Art. He has made over 100 short movies, sits on the board of directors for
Rooftop Films
and co-founded and directs the "
Internets Celebrities
" – a non-fiction group whose docu-series
Food Warriors
won
Best NYC short
at the
2015 Food Film Festival
. He wrote and produced the first ever trailer for "
Mad Men
" and the very last trailer for "
Breaking Bad
" and launched
lots of their campaigns
in-between. Recent work includes his short films "
IDAC
" (2016 Hot Docs Film Festival premiere) and "
70 Hester Street
" (2016 Vimeo Staff Pick), his pilot "Take Thee" (2016 Sundance Episodic Lab 2nd Round), and editing the documentaries "
The Perfect 18
" (2015 Emmy Nominee, ESPN) and "
The Shining Star of Losers Everywhere
" (2016 Sundance Film Fest Premiere, 2016 SXSW, 2016 Hot Docs Best Short Winner, ESPN).