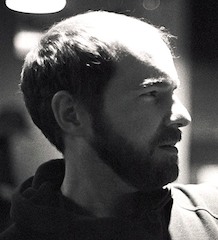 Casimir Nozkowski is a writer, director and video artist. The co-creator of the award-winning website cryingwhileeating.com, he has written and directed short documentaries, short films, music videos and commercials that have been seen on television, online and in festivals around the world. He has been interviewed on
The Tonight Show with Jay Leno
, the Countdown with Keith Olbermann show,
the Dylan Ratigan Show
, on KROQ LA, and NPR. His work has been featured in the New York Times, Entertainment Weekly, The LA Times, London Times, Slate.com, Salon.com, the AV Club, on the Brian Lehrer Show, on IFC, FUSE, CNN, the CW, AMC and exhibited at the Larissa Goldston Gallery in New York City. He writes and produces on-air promotion for the Emmy-winning AMC shows "Mad Men" and "Breaking Bad" and he co-founded and directs the Internets Celebrities - an injustice-exposing documentary group. Online, his videos have been viewed millions of times and are collected at his youtube channel. He sits on the board of directors for Rooftop Films and recent work includes the short documentary, "Andrew Sarris - Critic in Focus" which premiered at the 2011 Telluride Film Festival and screened at the Museum of Modern Art in September 2012.